On Friday 28 April, the shortlisted finalists of the Longitude Explorer Prize came together in London. The event, held at IBM's offices, brought together over 40 secondary school students, their teachers, a Digital Catapult tech expert, Nesta staff, and a number of IBM volunteers to assist the teams and provide extra information, coaching and expertise throughout the day.
The aim of the day was to congratulate the finalists and inspire them to think about the development of their innovations.
Over the course of the programme, all teams will be required to complete a workbook (outlining what it takes to introduce a product to the market) and to demonstrate how their idea works by creating a prototype by July 2017.
Participating schools will have access to some amazing resources to make that happen:
Access to

IBM Watson 

and

IBM BlueMix

– artificial data programmes enabling young people to create working prototypes of their apps.

IBM mentors – a business and technical mentor have been recruited to support young minds in turning their ideas into reality.

Things Connected Network

access – enabling teams to develop exciting and novel IoT products and services.

MultiTech GWs (base station & SODAQ board) – hardware to collect data with bespoke technical support from Digital Catapult.
The day kicked off with handing out goodie bags to participants, congratulating the teams for their brilliant ideas, and thanking the teachers for supporting their students.
After playing Human Bingo (sounds fun, doesn't it!), the participants were asked to present their ideas in no more than two minutes.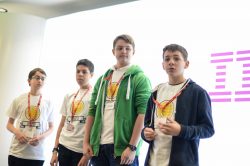 Before lunchtime we also heard from great speakers, including, Andy Stanford-Clark, IBM Distinguished Engineer and Master Inventor, who showed candidates the potential of the Internet of Things and examples of his inspiring projects.
The next session was delivered by Dale Lane, IBM Chief Engineer, who showed us the potential of IBM Watson and how finalists can benefit from it, and finally, Peter Karney, Head of Innovation and Design at Digital Catapult. Peter's session focused on the Internet of Things, and included a quick history, key components, and types of relevant technologies. Peter also run a data transmission experiment with students to explain how data can be transferred between devices: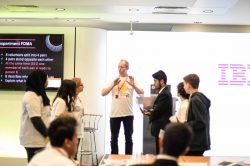 In the afternoon, the teams had an opportunity to share lunch with their mentors and decide how best to take their partnership forward.
Engagement continued in the afternoon, with an interactive workshop focussed on design thinking, delivered by Mary Hayes and Prachi Prasad, two IBM mentors.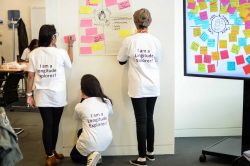 During the session the finalists were tasked with visualising their target audience (we found lots of hidden artistic talents across the room!). Working in teams, the young people were asked to consider their user profile, including what those people were likely to think and feel. This exercise helped our pupils to consider the right design of their product as well as their marketing strategy.
A further workshop was run in the computer lab, giving teams a solid understanding of BlueMix and Watson – two IBM technologies that teams can use to create prototypes of their ideas.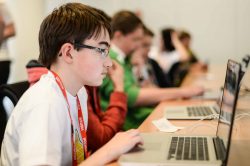 We're now looking forward to seeing young people's innovations and selecting the winner at the Award Ceremony on 13 July 2017. Watch this space for more updates!